Best
QuietComfort® Deluxe 19
19 SEER, 13 EER efficiency
 As low as 56 decibels
5-stage Inverter compressor
Variable-speed condensor fan motor Compressor blanket for noise reduction
Durably built with tight wire grille and protective corner posts to withstand bad weather and debris
Includes IonTM Communicating System Control
Energy Star rated 10-Year No Hassle
Replacement Warranty
10 Year Parts Limited Warranty
Better
QuietComfort® Deluxe 17
17 SEER, 13 EER efficiency
As low as 70 decibels
Two-stage scroll compressor
Two-speed fan motor
Compressor blanket for noise reduction
Durably built with tight wire grille and protective corner posts to withstand bad weather and debris
Includes IonTM Communicating System Control
Energy Star rated 10-Year No Hassle
Replacement Warranty
10 Year Parts Limited Warranty
16 SEER, 12 EER efficiency
As low as 76 decibels
Single-stage compressor operation
Single-speed fan motor
Compressor blanket for noise reduction
Durably built to withstand bad weather, debris, and corrosion
10 Year Parts Limited Warranty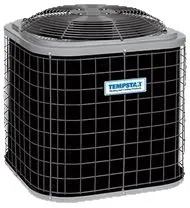 14 SEER, 12.2 EER eciency
As low as 75 decibels
Single-stage compressor operation
Durably built to withstand bad weather, debris, and corrosion
10 Year Parts Limited Warranty
What are SEER & EER?
Air Conditioners and Heat Pumps are rated in SEER (Seasonal Energy Efficiency Rating) and EER (Energy Efficiency Rating.) EER measures the energy efficiency of an air conditioner at one operating temperature, while SEER is the calculation using varying temperatures. The higher the SEER rating the more efficient the equipment.
Motors
An ECM motor is a high efficiency motor which reduces energy cost.
A fully variable speed ECM motor is the most efficient motor available and ramps up and down slowly, providing a wide range of operation possibilities. The quiet start and stop also is done gradually as the motor ramps up and down, providing high levels of dehumidification and low cost operation should you decide to circulate your air 24/7. In addition to the savings with two stage compressors and inverter compressors, many high efficiency Air Conditioners and Heat Pumps have higher efficiency outdoor condenser fan motors which also save money on electric.
What is AFUE?
AFUE stands for Annual Fuel Utilization Efficiency. Furnaces range in efficiencies from 80-98% AFUE. The higher the efficiency, the less gas you use and the more you save.
Gas Valves
A Single-stage gas valve furnace simply turns on and shuts off with a call for heat.
Two–stage gas valve units lower energy cost by operating in first stage (2/3 of normal output,) and switching to second stage (100%) as needed.
A Modulating gas valve furnace operates at a wide range of outputs (usually 30%-100%) depending on weather conditions.